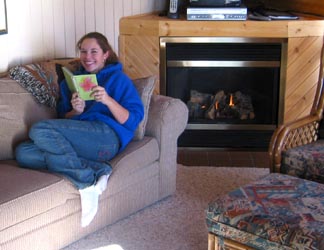 Comments from our Guest Books
- We came here with friends to get away from jobs, kids, dogs, etc. Love the villas! Very cozy and had everything we needed. The girl at the office when we checked in was very helpful and friendly. Castle Danger brewery, Glensheen mansion and Rocky Mountain Chocolate were awesome! We'll be back.

- Love it here! This is our 3rd year here. It is one of my favorite vacation spots in the whole world!!

- Relaxed and enjoyed the villa with our two adult children, plus one. Saturday we walked through Bentleyville and ate at Grandma's. Sunday - watched the Vikings (they won), then went to Enger Tower for some family pictures for Christmas cards. We ate at Seven West Tap House as suggested by our son that attends college at UMD. Came back to the villa for an evening of dominos and more football watching. I cherish these times with my family and the Villas are a perfect place for these memory-making weekends.

- Great place for a ladies weekend - our 1st time here! Got out to the Superior Hiking Trail for two good hikes on Saturday. Lots of great food, drink, and time spent with friends!

- Best cabin ever. It was a lovely stay with 6 people - the deck in the back was amazing! We all had so much fun! It was great! We will come back again - Sorry for neighbors - they had to listen to Hall & Oates all night and witness me dancing. There is just something about this place!

- We've had a lovely two-day getaway. The kids loved exploring and playing puzzles. How fun it was to spend time in a cozy villa up in the trees - so quiet and peaceful. Our oldest enjoyed the Timber slide - 4 times! We'll have to come back again when the other two are big enough to try it!

- Thanks Fox Den for the great memories that were made this weekend - here and at Mama Bear's Den (#11). We will definitely be back! We had 7 first time skiers and we are all learning without any broken bones! SUCCESS!

- We had a wonderful time and an exceptionally beautiful weekend (sunny and 30's all weekend!), and the skiing/snowboarding was fantastic! An added bonus was the coaster and zipline, which were new since our last visit. We loved taking a long walk up to and through the Nordic Center on a beautiful sunny day! We came with four teenage boys who had no shortage of fun! We especially enjoyed the multitude of board games for late night humorous entertainment!

- This place has been amazing. I am here with a wedding party and everyone has been accomodating and awesome. The "Fox Den" is so cozy and welcoming and I never want to leave. Thank you to the Spirit Mountain staff and villas for making this wedding experience beautiful and unforgetable.

- Much better than a motel for family time - great collection of games, books, etc. Kitchen well stocked - fun tub - so very comfortable - reasonable rates.

- We took our 'kids' downhill skiing - finally! Always meant to take them when they were little and somehow life got too busy and they grew up. So we planned this trip - it's never too late. We had a great time skiing and plan to make this an annual event.

- From a 10 year old: The cabin's really cool! Tomorrow we're going to go snowboarding / skiing, My Mom and my grandma both haven't gone skiing in years. Twenty five to be exact... Sooo..... we'll just see how that goes. (Next Day)Today I had a great day snowboarding! My grandma was skiing. She went off a jump and caught 3 inches of air!

- A totally delightful experience! We were particularly impressed with the use of space in the design of your villa and the almost wrap-around windows offered a splendid view of Duluth, especially at night.

- The views, the atmosphere and the "2nd home" feeling keeps us coming back.

> - This place is a little gem tucked away from the cares of the world. In my mind, it's "Heavenly Haven" (although "Back Tracks" is a great name, too) My son dubbed it "Tranquility Base".

- What a great place! We were excited to get a villa for our ski trip but this exceeded our expectations. We have a log home so this place really fit our style. The decorating was great.

- This is the perfect hideaway from our every day lives. We just love it!

- We may have won the prize for farthest away visitors. . .California. . .but you definitely win the prize for most adorable, cozy cabin! I am so picky (so they say) about accommodations and this was perfect in every way. . . .30 members attended the reunion and all but four were here in the villas. The MT Villas was a great choice and we all had a marvelous time.

- It's our 25th year of women weekend away. Total of 38 women took up 7 villas and had a blast.

- I came up to attend a conference. It was so difficult to leave here each morning and I could hardly wait to return in the evening.

- This is our second of many more visits to Mountain Villas. Life doesn't get any better than this.

- We have been to Duluth many times . . .have stayed in many lodgings but have to say this has been the nicest and most relaxing place we have stayed at.

- We just wanted to say thanks for sharing your beautiful villa with us! This is our second time up here & again we had a great time! We did some snowboarding Saturday & Sunday & we had a blast . Thanks again & we hope to visit again. Nina, Dara, & Jackson

- Hi ya, We are staying here as we are relocating to Duluth & we have not found a home yet - this is our stay - part 1!! We have to move out for SnoCross, but that is OK as we are going to stay at the Edge for a few days & then back we come!! We love it here, the wildlife is wonderful. We have 2 deer that visit us regularly & also a buck (10pt) that likes to eat the bird seed from the feeder in front of the villa. The peace & quiet is great & Spirit Mountain just opened so we are able to get in some snowboarding. Thanks! Daniel, Duluth MN

- This was our first trip here to the villas! What a great time we had. We look forward to returning. We sure felt like we were at home. Mike & Sue

- This is our fourth time up to Mtn Villas - first time in the Fox Den. We thoroughly enjoyed the sun room. The variety of games was nice, especially since we had children along. Thank you for opening up your getaway for us. Dale, Robbinsdale, MN

- Very much enjoyed staying at your villa. Loved my private "back room" and deck watching the leaves grow! we/a cup of coffee. My family is here for a reunion at Munger Hall. Saturday we had 20+ people here for Swedish pancakes! What a great, noisy, fun time. Thanx for your hospitality. Harold M., Bloomfield Hills, MI

- Thanks for sharing your villa with us! Our whole family rented out ALL the villas & we had a big family reunion this weekend! We have over 70 people just in the villas and over 120 at the reunion. It was a great weekend had by all at such a beautiful place. There is nothing that beats the beauty & serenity of northern Minnesota, Sincerely, Sue and Rick

- We are here for the wedding of my sister Mackenzie. All of our family is here from North Carolina and New Jersey. She gets married today and we are all excited for her and Matt. The weather was not nice the first day but today its so gorgeous and great wedding weather! Thank you for the lovely stay. We hope to visit again soon! Jeff

- Awesome superb and memorable stay. - Thank you so much for letting us stay here for our honeymoon. We had a wonderful time exploring Duluth. Last night on our way up the mountain we spotted 4 deer! And there was a chipmunk at the bottom of the cabin steps that we got within 2 feet of. Your place is beautiful! The Pleimann's, St. Louis, MO

- Our family rented 4 villas and Gramma & Gramps are the lucky ones to have the Fox Den. This was a Christmas present from our oldest (of 4). We enjoyed games last night and skied today - how fun! This is a wonderful place for a family to gather - Thank you! Great decorating and very cozy.

- We certainly enjoyed being up in the woods of MN and the snowy slopes of Christmas. With six inches of snow today already (& still snowing) we are cozily snowed in tonight... Oh, the weather outside is frightful but he fire is so delightful. And since there is no place to go.... Let it snow, let it snow, Let it snow..
The wind today made skiing a bit precarious, but the fresh snowfall was ideal, so long as you could actually see the skiers in front of you. Enjoyed the villa immensely, the full kitchen, warm fireplace, the beautiful snowy views, complete with many chickadees at the feeder. Thank you for sharing the Fox Den with us, Rick & Sherri (Minneapolis)

- Great lodging!

- We have enjoyed our weekend away. Dan and I celebrated our 11th wedding anniversary, and our friends celebrated their 6th anniversary. We enjoyed a very fun game of Trivial Pursuit (the ladies conquered!), rest, relaxation and a nice time catching up with good friends. Minneapolis

- Outstanding! A combination birthday celebration and a chance to rekindle and reconnect. Great villa, nice amenities! We are surely looking forward to a return visit - leaf color change and again next summer. Thank you for your kindness and courtesy. We feel very blessed to have found such a beautiful place and found such quiet contentment. Sue & Steve

- Back Tracks is a slice of heaven. We fell in love with every inch of it and will most definitely return. Thank you for enlightening us with the artistry and scenes of Northern Minnesota. It exceeded our expectations! This trip ranks right up there with Cancun and Tahoe.

- Thanks for a great stay at your place! We came up for a couple days of skiing during Spring Break, and the Villa was so convenient and spacious. The skiing was great too! We did both cross-country on the Munger trail and two days a Spirit Mountain. The kids got in 2 days of ski school. We loved the fireplace, all the great gamers and being able to cook for ourselves. We hope to be back! Thank you, George and Lisa, St. Cloud, MN

- Hi, We are a small group of Middle School kids chaperoned from Good Shepherd Church in Rochester. First of all, let me say thanks for the comfy beds and cozy bedding! Skiing was the best we've had all season and - you may not realize this - you have a great spot out front for snow football! We would be happy to come back any time of the year. Thanks! Judy, Mark, Sherry & gang

- This villa is beautiful - we'll defintely be back next year and the years to come.